NEAHMA Kid's Day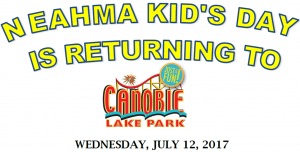 NEAHMA is excited to announce we will be returning to Canobie Lake Park in Salem, NH on July 12, 2017, for the Annual Kid's Day Event.
This day is to celebrate the participants in the NEAHMA Regional Poster Calendar Contest.
Enjoy the park & over 85 games, shows and attractions!
DIRECTIONS
Take Rt I-93 to Exit 2 or 3 in Salem NH.
Follow signs to Canobie Lake Park.
When Requesting Directions Electronically: Type in the following address:
85 North Policy Street
Salem, NH 03079
Registration Deadline: June 28, 2017
WHO CAN PARTICIPATE:

NEAHMA Kid's Day is a fun filled day for kids who participate in the 2017 NAHMA Art/Poster Contest
NEAHMA will cover the first 20 kids Per Company. Companies must cover the additional kids and adults
Additional kids, Adults who are chaperones, parents and guests are $26 per person
Please send payment to NEAHMA in full by July 7, 2017
TIMES:
10:30 AM – 5:00 PM (suggested time) Park closes at 10:00 PM

10:30 AM-11:30 AM
Check in with NEAHMA Staff to via phone or in person, to confirm you arrived.
FOOD:
Lunch is on your own for this event
Bring your own lunch to eat at your bus or car. Make sure you obtain a hand stamp at the gate prior to exiting the Park to eat, in order to ensure your re-entry afterwards.
Bring cash to eat at the food stands that are located throughout the park.
TICKETS:
Park passes will be mailed to Company Contact Person
Passes can't be handed out on day of event
Please make sure your headcounts are correct
Extra tickets can be returned to NEAHMA Staff day of event