Please contact Sarah Kaufmann at [email protected] with any questions.
2019 Theme for the 2020 NAHMA Calendar:
Sharing Our Stories: Learning from Others, Young and Old
Posters due to NEAHMA on Thursday, April 25, 2019!
Download the NEAHMA Rules Packet here.
POSTER FORMS THAT MUST BE INCLUDED ON BACK OF POSTER TAPED:
Forms to add to back of poster, must include the AGREEMENT WITH RESPECT TO PRIZE IN NAHMA ART, POSTER CALENDAR CONTEST form as well.
2. Children Entry Form OR Elderly & Residents with Special Needs Entry Form
2018 Regional Poster Winners at Annual Conference and Trade Show, October 16, 2018!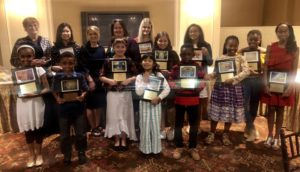 Full article can be viewed here.
NEAHMA Awards 21 Winners in the Regional Poster Contest
View all the winners here!