Awards, Fundraising and Holiday Gifts
By: Sarah Kaufmann, NEAHMA
I would like to thank all of our committee members for volunteering and donating throughout the year. We couldn't be Team NEAHMA without any of you!
Third Annual Honoring Our Heroes Event
The 3rd Annual Honoring Our Heroes Event was held on September 16th at The Harp in honor of the brave men and women of the Boston Police Department. When Boston needs help, members of the Boston Police Department respond heroically and without hesitation. They're trained to sacrifice their lives to protect ours. This event brings together the Greater Boston Real Estate Industry to raise donations to support programs that can save their lives. Team NEAHMA members volunteered their time on the planning committee and attended the event.
This year we raised $31,000, which brings our three year total to over $85,000! This was done through the support and collaboration of sponsors, auction/raffle prize donors, auction/raffle prize bidders, attendees, and supporters from throughout the community.
Click on the photo for all the great pictures!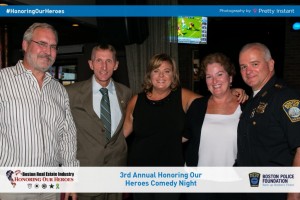 Poster Winner Reception at NEAHMA Annual Conference
At the 27th Annual Conference on October 20, 2015 Regional Poster winners attended a dinner reception with prizes before their Awards Ceremony. NEAHMA had five National Winners in the NAHMA Calendar Contest who are in the 2016 Calendar! You can still order your calendar today here.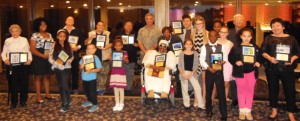 Thank you for the Poster Winner Award Dinner Sponsors:
Atlantic Tambone Management
Barkan Management
Corcoran Management
Cornerstone Corp.
First Realty Management
Housing Management Resources
Peabody Properties, Inc.
Peabody Resident Services, Inc.
POAH Communities
The Boston Land Co.
Trinity Management
 Holiday Giving
During the holidays NEAHMA and our members collect items for Elizabeth Stone House. This year NEAHMA adopted one family, a mother of three. Items that were donated included a gift card, toys, games, clothes and personal hygiene products. Peabody Properties, Inc. is a great supporter every year, and it is truly appreciated. Toys were collected at the November MA Quarterly meeting as well.
We collected over 160 donations this year!