Please contact Sarah Kaufmann at [email protected] with any questions.
2019 Theme for the 2020 NAHMA Calendar:
Sharing Our Stories: Learning for Others, Young and Old
Posters due to NEAHMA on Thursday, April 25, 2019!
Download the NEAHMA Rules Packet here. here.
POSTER FORMS THAT MUST BE INCLUDED ON BACK OF POSTER TAPED:
Forms to add to back of poster, must include the AGREEMENT WITH RESPECT TO PRIZE IN NAHMA ART, POSTER CALENDAR CONTEST form as well.
2. Children Entry Form
OR
2. Elderly & Residents with Special Needs Entry Form
Order your 2019 NAHMA Calendar Today here.
2018 Regional Poster Winners at Annual Conference and Trade Show, October 16, 2018!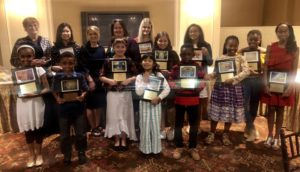 Congrats to the Five NEAHMA Residents Win NAHMA Poster Contest

Aubrey Frimpong, 8; third grade; Stratton Hill Park, Worcester, Mass.; Beacon Communities
Jessica Lauzon, 14; ninth grade; Bay Village Apartments, Fall River, Mass.; First Realty Management
Winnie Mei, 18; 12th grade; Charlesview Residences, Brighton, Mass.; Peabody Properties Inc.
Jean Mistretta, 75; senior; The Linwood Mill, Whitinsville, Mass.; Peabody Properties Inc.
Maura Sawyer, 67; senior; Framingham Green Apartments, Framingham, Mass.; Peabody Properties Inc.
Full article can be viewed here.
NEAHMA Awards 21 Winners in the Regional Poster Contest
Braintree, MA, June 14, 2018
New England Affordable Housing Management Association (NEAHMA) held their annual regional poster judging on Friday, May 11. The poster contest is open to youth, elderly/seniors and special needs residents living in the communities of membership properties, throughout New England. This year there were over 200 posters that were judged on with the theme, Hope is in Bloom: "Nurturing Our Community".
Regional winners posters were mailed to NAHMA for national judging to take place in early June. The regional winners will be invited to attend the Annual Kids Day Event, which is on August 8 this year, and taking place at Georges Island in Boston, MA. At the Annual Conference and Trade Show there will be a dinner reception and Awards Ceremony, on October 16 in Norwood, MA.
For the artwork, they are organized into seven categories with winners selected from five grade categories, elderly/seniors and special needs.
BEST IN SHOW
Winnie Mei, Age 18; Charlesview Residences, Peabody Properties, Inc.