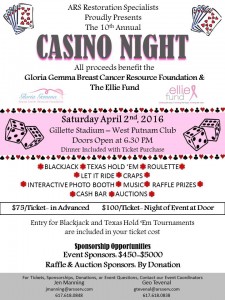 Charity Descriptions 
Gloria Gemma Breast Cancer Resource Foundation – GGBCRF was founded in 2004 in memory of Gloria Gemma, a beloved wife and mother of nine. The foundation was created in order to increase awareness, education and funding for critical breast cancer health programs. The GGBCRF staff are committed to supporting patients, survivors, friends and family. Visit www.gloriagemma.org to learn more!
Ellie Fund – The Ellie Fund was founded in 1995 by Jeff and Eliot Popkin to honor their mother Eleanor's courageous battle against breast cancer and the giving spirit for which she was known throughout her life. The foundation fights breast cancer by easing its effects on women, men and families across Massachusetts. They provide a strong support system to help alleviate the effects of breast cancer and allow the patient to focus on what matters – healing. Visit www.elliefund.org to learn more!
Tax Information 
The Gloria Gemma Breast Cancer Resource Foundation is a 501(C)(3) organization, with a tax identification number 13-4283582, and your gift is tax deductible to the fullest extent of the law.  Please retain this letter for your records.
Thank you so much for your time and we hope to see you there!
Sincerely,ARS Restoration Specialists